Modernisation/refurbishment
New technology for your plant and equipment. A worthwhile investment.
With our modernisation service, we make your plant and equipment state-of-the-art. An investment which pays off.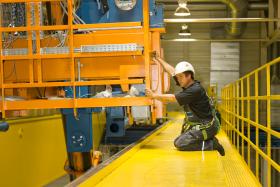 You can utilise new technical features and replace obsolete components, adapt your plant and equipment to meet changing requirements or incorporate additional functions.
We offer tailored solutions to meet your specific requirements, up to and including the turn-key modernisation of your cranes.